NFL Playoff Schedule 2023: Date, Time, TV Channel, Live Stream
NFL Playoffs 2023 is going to be more competitive this year. Here's everything you need to know about the NFL Playoffs schedule, including kick-off time, TV Channel, location, score, and more.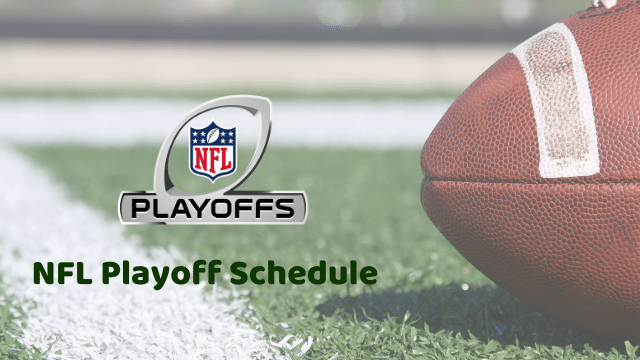 2023 NFL Playoffs & Key Dates
Wild-card games: January 14-16
Divisional games: January 21-22
Conference championships: January 29
Pro Bowl: Sunday, February 5, 2023
Super Bowl LVII: Sunday, February 12, 2023
When do the NFL playoffs start in 2023?
The 2022-23 NFL playoffs will begin on Saturday, January 14, 2023, and conclude on Sunday, January 29 with Conference championship games.
NFL Playoff Wild-Card Round Schedule
The NFL Wild card round will kick off on Saturday, January 14 and ends on Monday, January 16. 14 teams participate in this stage and only the top 4 will go to the Divisional Round from each conference.
| Date | Matchup | Time (ET) | TV Channel |
| --- | --- | --- | --- |
| Saturday, January 14 | Seahawks vs. SF 49ers | 4:30 PM | FOX |
| Saturday, January 14 | Chargers vs. Jaguars | 8:15 PM | NBC |
| Sunday, January 15 | Dolphins vs. Bills | 1:00 PM | CBS |
| Sunday, January 15 | NY Giants vs. Vikings | 4:30 PM | FOX |
| Sunday, January 15 | Ravens vs. Bengals | 8:15 PM | NBC |
| Monday, January 16 | Cowboys vs. Buccaneers | 8:00 PM | ESPN |
Divisional round Schedule
NFL Divisional round Playoff games kick off on Saturday, January 21 and end on Sunday, January 22. 8 teams go to the race and we get 4 top scorer teams from AFC and NFC Divisional rounds.
| Date | Matchup | Time (ET) | TV Channel |
| --- | --- | --- | --- |
| Saturday, January 21 | Jaguars vs. Chiefs | 4:30 p.m. | NBC |
| Saturday, January 21 | Giants vs. Eagles | 8:15 p.m. | FOX |
| Sunday, January 22 | Bengals vs. Bills | 3 p.m. | CBS |
| Sunday, January 22 | Cowboys vs. 49ers | 6:30 p.m. | FOX |
Conference championships Schedule
The top 4 teams are playing AFC and NFC Championship games. The Conference championships winner to play Super Bowl, and the losing team will play in the pro bowl 2023.
Date
Matchup
Time (ET)
TV
Sunday, January 29
NFC Championship
49ers vs. Eagles
3:00 PM
FOX
Sunday, January 29
AFC Championship
Bengals vs. Chiefs
6:30 PM
CBS
How do I watch NFL playoff games on TV or live stream them online?
Postseason play begins after the NFL regular season ends. This guide will show you how to watch all the NFL playoff games without paying for cable.
The best NFL Playoff Streaming Service allows you to watch playoff games on CBS, Fox, ABC, NBC, and ESPN. You'll get a full refund if you cancel within 7 days of signing up with FuboTV.
We will show you how to watch every NFL playoff game for free in 2023 during wild card weekend. If you don't want to pay for Nickelodeon's simulcast of one game, you may watch the playoffs for free on the following networks: CBS, FOX, ABC, NBC, and ESPN. Each service is compatible with Roku, Apple TV, Chromecast, iOS, and Android platforms.
As mentioned, reserving the option to watch NFL playoff games is easy.
You only need to focus on using the services that include the abovementioned channels. Besides FuboTV you could also use other top-rated services like Directv Stream, YouTube TV, Paramount+, Sling TV, and Hulu with Live TV.
Where is NFL Pro Bowl 2023?
The 2023 NFL Pro Bowl game will take place on Sunday, February 5, at Citrus Bowl in Orlando, Florida. NFL all-star game will be shown on ESPN, ABC, and Disney XD and kick off at 3 pm ET/12 pm PT.
When and where is Super Bowl 57 in 2023?
Super Bowl 2023 will take place on Sunday, February 12, at 6:30 pm ET. The location is State Farm Stadium in Glendale, Arizona. So, those who haven't attended the stadium could reclaim their seat for the next Super Bowl.
What is the NFL playoff format & How does it Work?
Single-elimination playoffs are held following the regular season in the NFL. Each conference currently has seven teams in the playoffs. Breaking connections can be done in a certain way.
The NFL Playoffs include 14 teams. The NFL Playoff Bracket has seven teams from the American Football Conference and seven from the National Football Conference. Each conference has four divisions, and the top two teams from each division advance to the playoffs. Teams will be seeded 1–4, depending on their record. (1 seed) has the best record and has the advantage of playing at home. When it comes to conference tournaments, only the top two seeds receive a first-round bye.
The Wild Card Round will include the top three teams from each division. The best wild card team faces the fourth-seeded club from the division winner's conference. They will be seeded 7th and 6th, meeting the division winners' 2nd and 3rd seeds. Each league has three wild card teams.
The NCAA Tournament and the NBA Playoffs have "real" brackets, while the NFL does not. In a "true" bracket, the team that wins each game advances to the next round. In the second round of the NFL playoffs, the highest seed in each conference matches the lowest seed left in that conference.
Unless you remove the bracket, it will remain there. Here's an example of a second-round shuffle in an NFL playoff bracket.