NFL Playoff Bracket 2023: Latest Update of NFL Playoffs Race
The NFL playoff bracket consists of two sides, with each side eventually producing a finalist for the Super Bowl. Below is the complete NFL playoff bracket for 2023.
NFL Playoff Bracket 2023
AFC Conference
Wild Card Round Weekend
Kansas City Chiefs (bye)
Buffalo Bills vs. 7. Miami Dolphins
Cincinnati Bengals vs. 6. Baltimore Ravens
Jacksonville Jaguars vs. 5. Los Angeles Chargers
Divisional Round Playoffs
Jaguars vs. Chiefs
Bengals vs. Bills
AFC Championship Game 2023
NFC Conference
Wild Card Round Weekend
Philadelphia Eagles (bye)
San Francisco 49ers vs. 7. Seattle Seahawks
Minnesota Vikings vs. 6. New York Giants
Tampa Bay Buccaneers vs. 5. Dallas Cowboys
Divisional Round playoffs
Giants vs. Eagles
Cowboys vs. 49ers
NFC Championship Game 2023
Super Bowl 2023
Chiefs vs Eagles
Printable NFL Playoff Bracket
Do you want to get a printable or fillable NFL playoff bracket for 2023? We have created both blank and printable versions of the playoff bracket for you. You can download them in HD quality image and PDF format.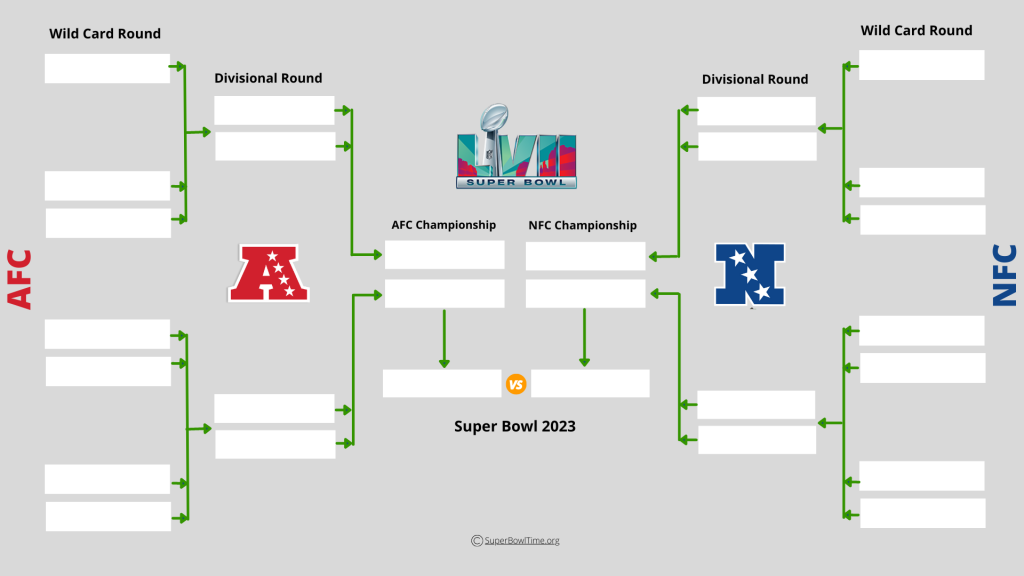 When are the NFL playoffs in 2023?
The National Football League playoff games for 2023 are scheduled to begin on Saturday, January 14, 2023.
Wild-card games: January 14-16
Divisional games: January 21-22
Conference championships: January 29
Super Bowl 2023: Sunday, February 12
Pro Bowl 2023: Sunday, February 5
For the complete NFL playoff schedule for 2023, click here.
What is the NFL playoff bracket and how does it work?
The NFL playoff bracket helps you understand which teams will advance to the next round and the overall structure of the NFL playoffs. After the NFL regular season, 14 teams compete in the NFL playoffs. 7 teams from each conference qualify, with the top 2 teams receiving a first-round bye. The remaining 6 teams compete in the AFC and NFC brackets, with the top 4 teams advancing to the divisional round.
From the divisional stage, the top 2 ranking teams from each conference move on to the conference championship games. The winners of the AFC and NFC championship games then advance to the Super Bowl, while the losers play in the Pro Bowl for third place.
Where is the Super Bowl in 2023?
The 2023 Super Bowl will take place at State Farm Stadium in Glendale on Sunday, February 12. The game will kick off at 6:30 p.m. ET/3:30 p.m. PT.